Yukichi Fukuzawa Memorial Lectures in Economics
Neil Wallace
Models of Money Based on Imperfect Monitoring and Pairwise Meetings: Policy Implications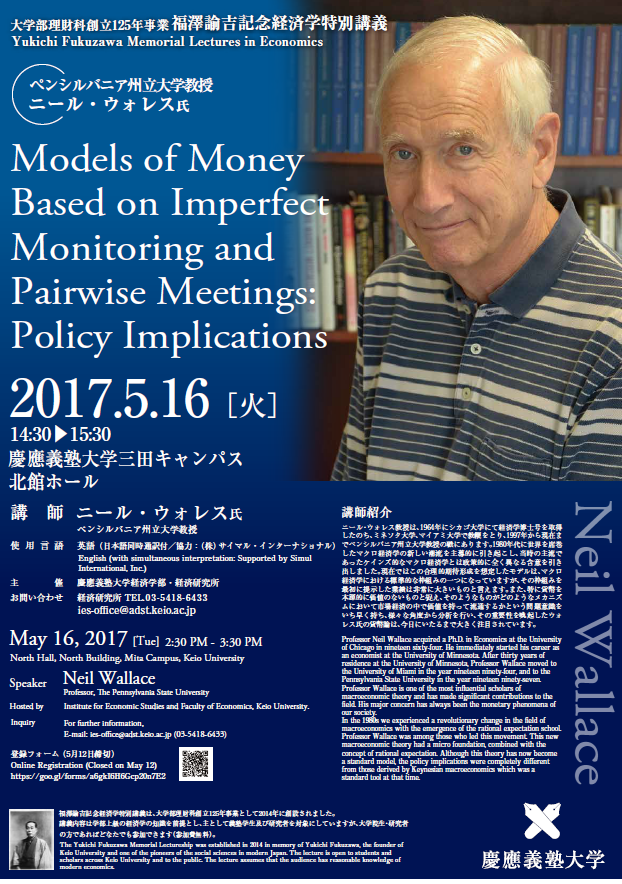 > Zoom
Date
May 16, 2017, 2:30 PM-3:30 PM

Place
North Hall, 1F North Building, Keio University
About Speaker
Professor Neil Wallace acquired a Ph.D. in Economics at the University of Chicago in nineteen sixty-four. He immediately started his career as an economist at the University of Minnesota. After thirty years of residence at the University of Minnesota, Professor Wallace moved to the University of Miami in the year nineteen ninety-four, and to the Pennsylvania State University in the year nineteen ninety-seven.
Professor Wallace is one of the most influential scholars of macroeconomic theory and has made significant contributions to the field. His major concern has always been the monetary phenomena of our society.
In the 1980s we experienced a revolutionary change in the field of macroeconomics with the emergence of the rational expectation school. Professor Wallace was among those who led this movement. This new macroeconomic theory had a micro foundation, combined with the concept of rational expectation. Although this theory has now become a standard model, the policy implications were completely different from those derived by Keynesian macroeconomics which was a standard tool at that time.
Target
The Yukichi Fukuzawa Memorial Lectureship was established in 2014 in memory of Yukichi Fukuzawa, the founder of Keio University and one of the pioneers of the social sciences in modern Japan. The lecture is open to students and scholars across Keio University and to the public. The lecture assumes that the audience has reasonable knowledge of modern economics.
Notes
Registration form is available in the following page: 
https://goo.gl/forms/a6gkI6H6Gcp20n7E2
(~5/12)
Language: English (with simultaneous interpretation)
Hosted by the Institute for Economic Studies and the Faculty of Economics, Keio University
For further information, email : ies-office@adst.keio.ac.jp
(03-5418-6433)