Events
Event
Name
Speech "Growth in the Eurozone" by Mr. Jeroen Dijsselbloem

Date

2015/1/13(Tue)

Place

North Hall, North Building, Mita Campus

Details

Keio Security Initiative

Faculty of Economics and Institute for Economic Studies, Keio University

Lecture for the 2014 Top Global University Project "Growth in the Eurozone"

Mr. Jeroen Dijsselbloem, Minister of Finance of the Kingdom of the Netherlands, President of the Eurogroup, and President of the Board of Governors of the European Stability Mechanism. His speech will be held as a part of the "Keio Security Initiative" for the 2014 Top Global University Project supported by the Ministry of Education, Culture, Sports, Science and Technology.

Date : Tuesday, 13 January 2015
Time : 11:00 – 12:00 am
    *Registration starts at 10:30 am
Place : North Hall, 1F North Building, Mita Campus,
    Keio University
    *Please refer to the following map for directions
     Mita Campus Map (Building No.1)
Title : Growth in the Eurozone
Language : English
      *simultaneous translation is provided
Admission : Fee of charge

An invitation letter or online pre-registration is required to attend this speech, which is free of charge.
Registration :http://www.ic.keio.ac.jp/news/007946.html
*Online pre-registration available from 18 December to 9:00am on Monday, 12 January

Special Note : Registered attendees should print out the registration confirmation email and bring it with them, or bring your mobile phone to show the registration confirmation email at the entrance.

Contact : International Exchange Services Group,
     Office of Student Services, Keio University

http://www.ic.keio.ac.jp/en/news/007955.html (ic-event[at]adst.keio.ac.jp)

=== Speaker's Curriculum Vitae ===

[Profile]

Jeroen Dijsselbloem is the current Eurogroup President who is also the Minister of Finance of the Netherlands. He was elected by the members of the Eurogroup on 21 January 2013 for a term of two and a half years. The Eurogroup President chairs Eurogroup meetings, draws up its work programme and represents the Eurogroup in meetings with third parties and in international fora. On February 11, 2013 The Board of Governors of the European Stability Mechanism (ESM) elected Jeroen Dijsselbloem as its Chairman. Jeroen Dijsselbloem, born in Eindhoven on 29 March 1966, lives in Wageningen with his partner and two children.

[Career]

In 1992 Jeroen Dijsselbloem worked as an assistant to the Dutch Labour Party (PvdA) Members of the European Parliament in Brussels. He joined the staff of the parliamentary PvdA in The Hague in 1993, where he worked for three years as a policy officer in the area of spatial planning (including the environment, agriculture and nature). Jeroen Dijsselbloem sat on the Wageningen municipal council from 1994 to 1997. In 1996, he became an advisor to the Minister of Agriculture, Nature Management and Fisheries in The Hague, a position he held for two years. He was then appointed deputy head of that ministry's advisory section, where he remained until 2000. Jeroen Dijsselbloem was a member of the House of Representatives from 28 March 2000 to 22 May 2002 and from 19 November 2002 until taking up his post as minister. He was the party's spokesperson on education and youth and covered a broad range of other policy issues. From 25 April 2007 to 22 December 2008 he chaired the parliamentary investigation committee on educational reform. On 5 November 2012 Jeroen Dijsselbloem was appointed Minister of Finance in the Rutte-Asscher government. Jeroen Dijsselbloem has been a member of the PvdA since 1985. He became the deputy leader of the PvdA parliamentary party in 2008.

[Education]

1985: Secondary school, Eindhoven

1985-1991: Degree in agricultural economics, Wageningen University (majors: business economics, agricultural policy and social and economic history)

1991: Business economics research towards master's degree, University College Cork, Ireland.

Notes

Hosts : Faculty of Economics and Institute for Economics, Keio University, Embassy of the Kingdom of the Netherlands, Keio International Center.

Material

Print

[Poster] "Growth in the Eurozone" by Mr. Jeroen Dijsselbloem

[Slide 1] "Growth in the Eurozone" Opening
Event Reports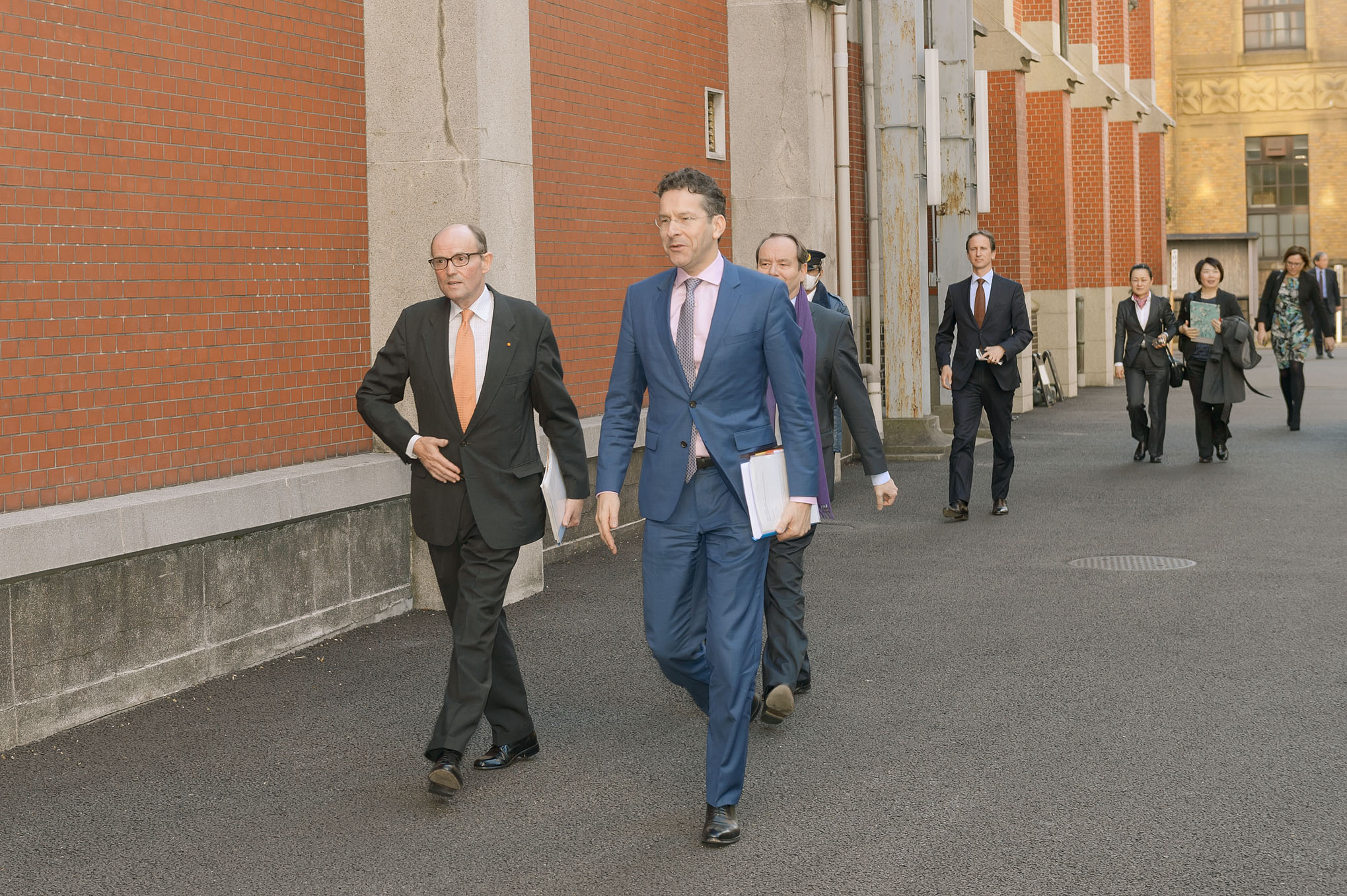 Mr. Dijsselbloem entering the North Hall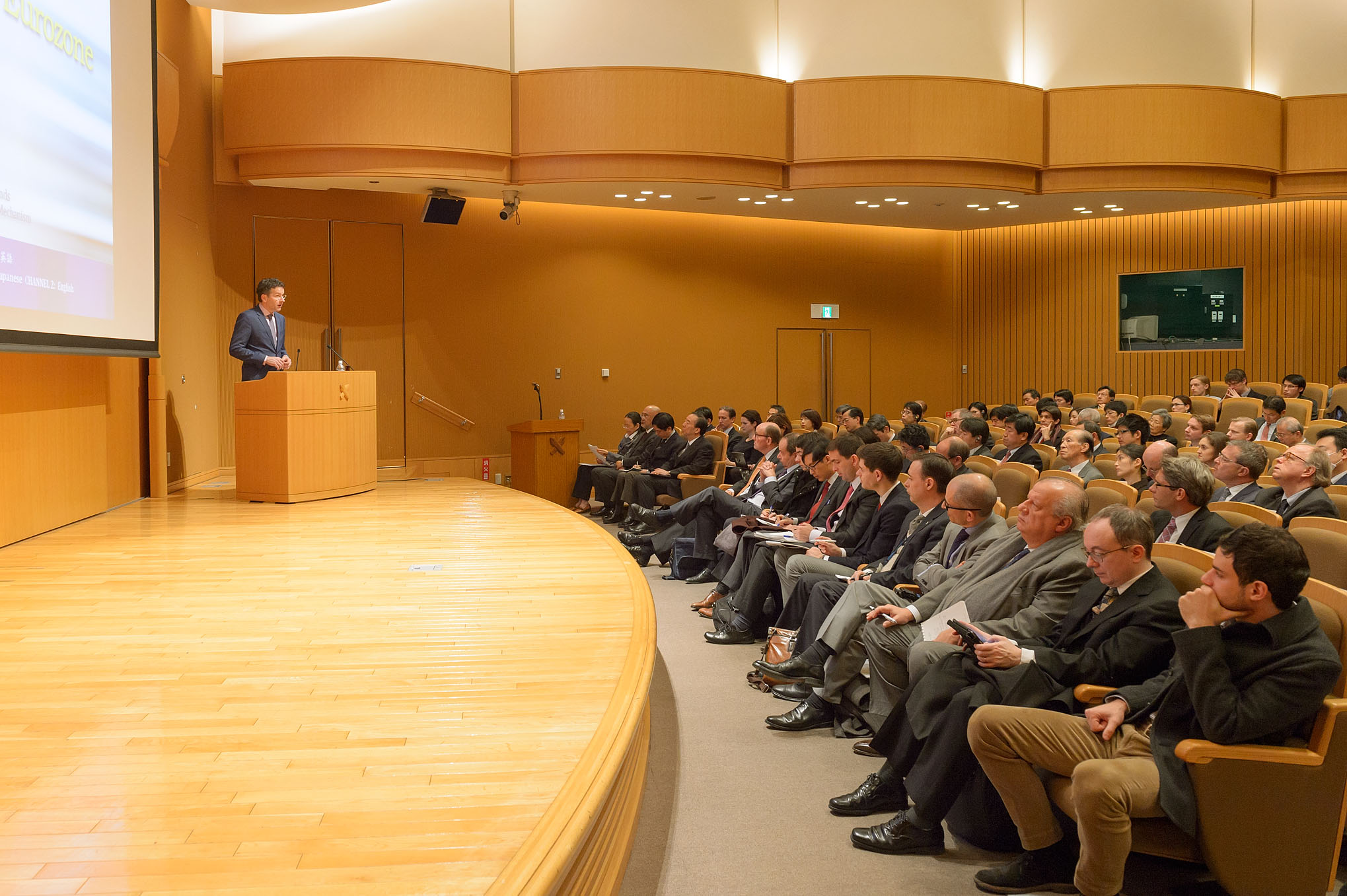 In the North Hall
Keio University invited Mr. Jeroen Dijsselbloem, the President of Eurogroup, Minister of Finance of the Kingdom of the Netherlands and the President of the Board of Governors of the European Stability Mechanism, to deliver a speech, "Growth in the Eurozone" as part of Keio University's Security Initiative under the Top Global University Project. The event was co-hosted by Keio University's Faculty of Economics and Institute for Economic Studies and the Embassy of the Kingdom of the Netherlands. It was held at the North Hall on Mita Campus on Tuesday, January 13.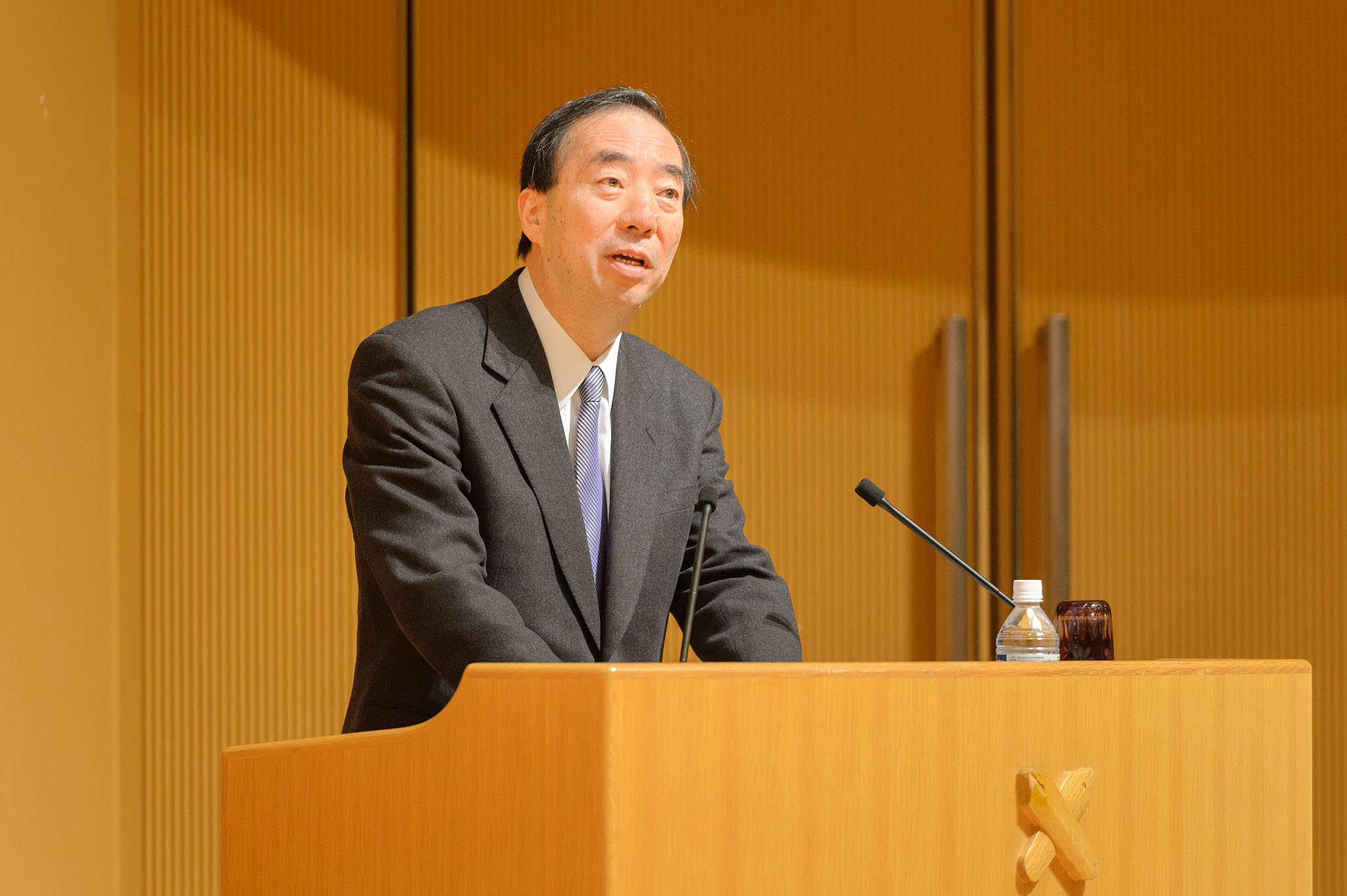 Welcome greeting by President Seike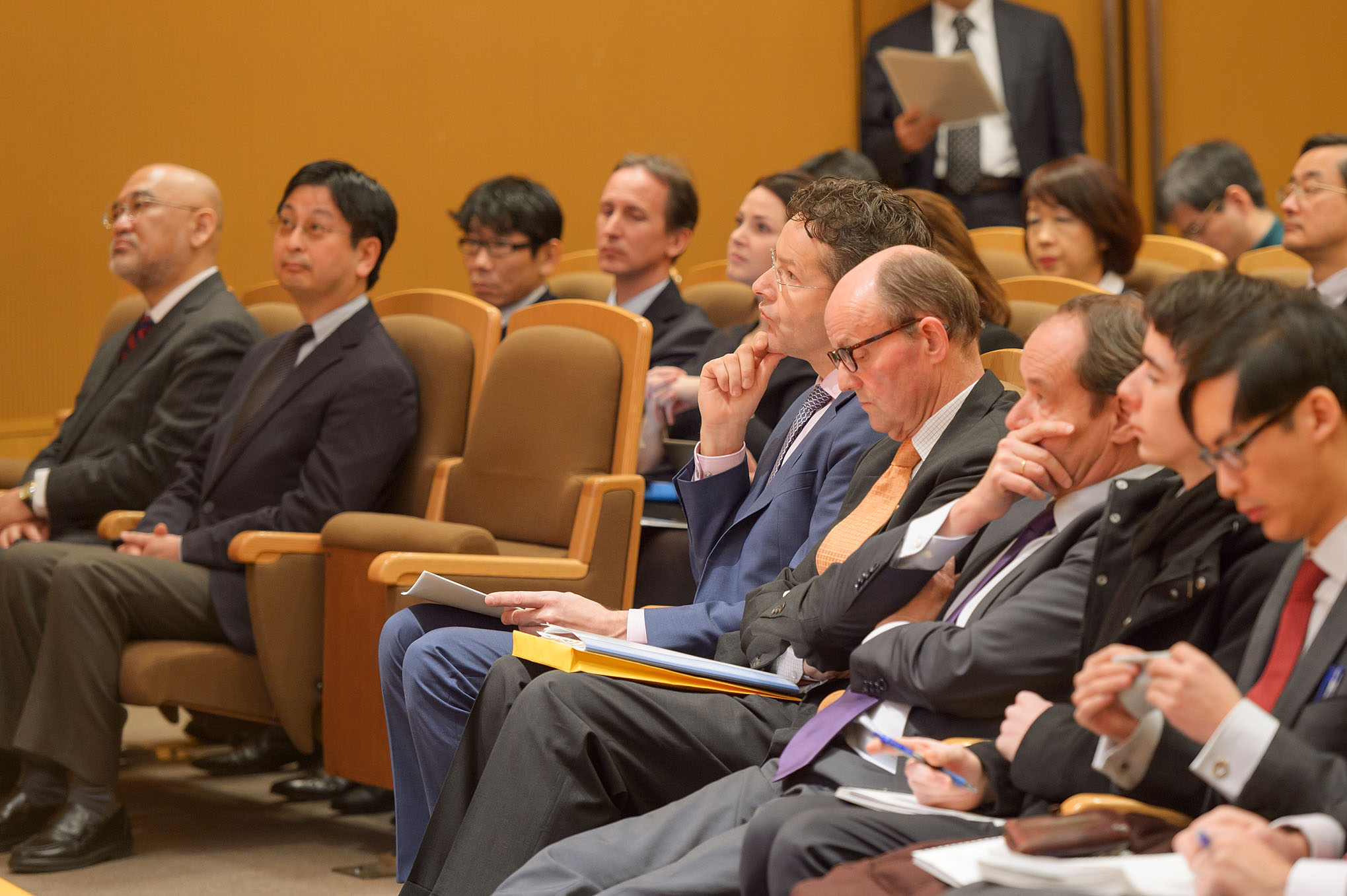 In the opening speech, President Seike acknowledged the fruitful and successful relationship the Netherlands and Keio University have enjoyed over the years. He also mentioned that risks related to population ageing, environmental pollution and security, as well as the need for innovation were common issues for European countries and Japan, and that Keio was extremely fortunate to have the opportunity to learn from Mr. Dijsselbloem's insight.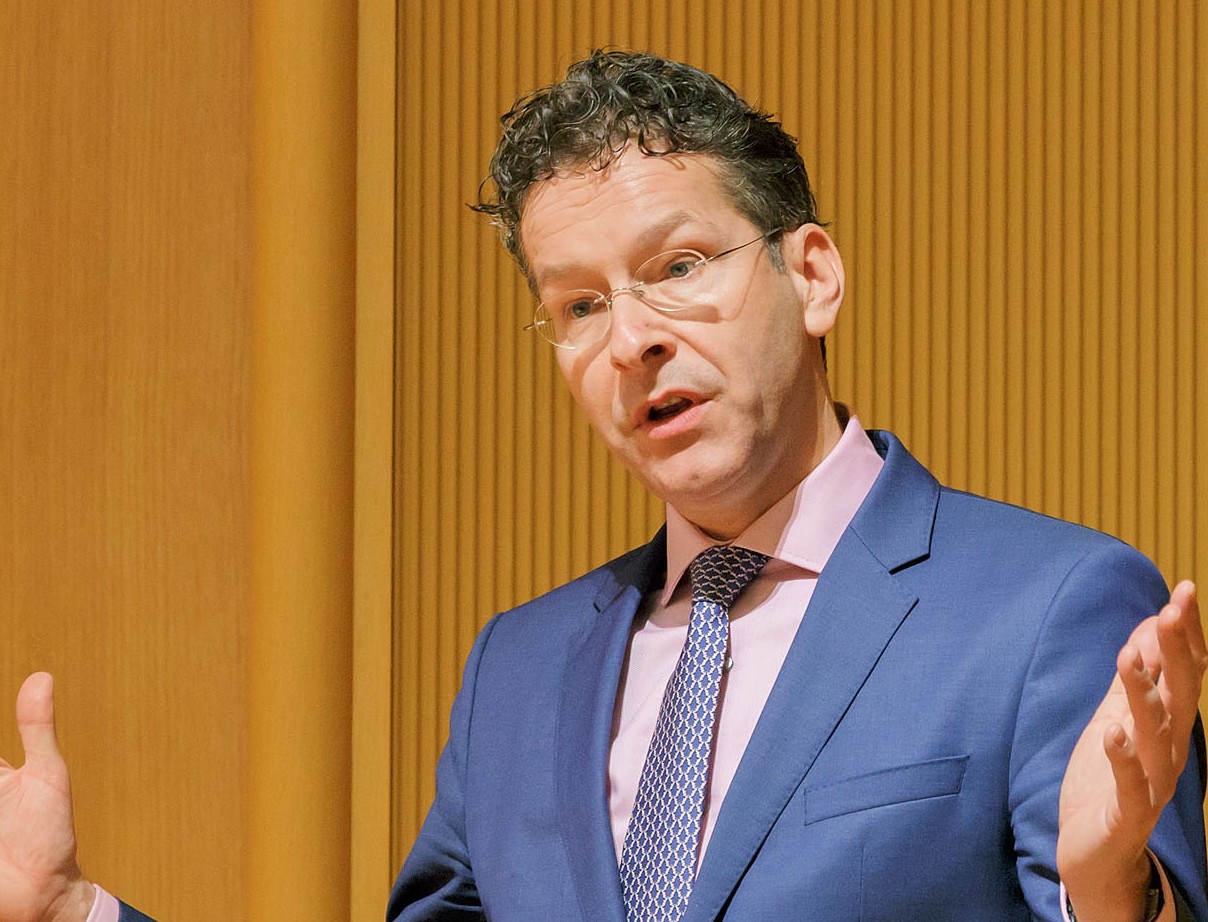 Speech by Mr. Dijsselbloem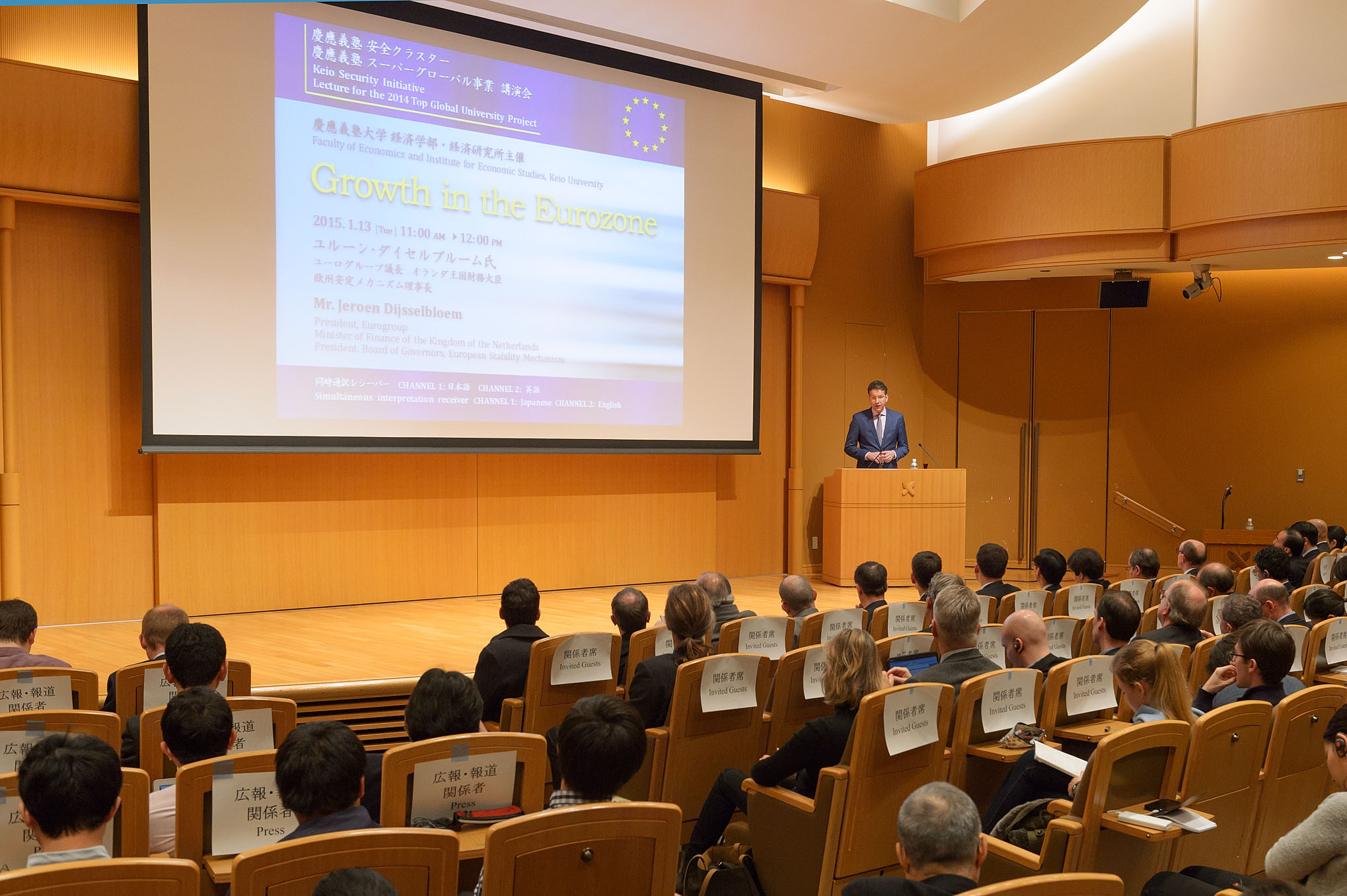 Mr. Dijsselbloem pointed out in his speech that change was needed in Europe in order to achieve sustainable growth, and that if Europe with its consumer market comprising 500 million people regained competitiveness, the benefits would be seen all over the world. He also talked about the creation of the Banking Union in Europe, and about the measures and reforms that the euro area countries swiftly undertook in order to get public finances back in order. He then went on to point out that even though Europe and Japan differed in their reaction to the crisis, they both shared the key challenges of investments leading to productivity improvement and growth, and further structural reforms.

Professor Sahoko Kaji, who chaired the lecture, asked Mr. Dijsselbloem what the role of democracy was in maintaining fiscal, demographic and environmental sustainability. In response, he commented that it was important for politicians to openly discuss the costs and benefits of policies with the public and gain understanding of the nation before pursuing policies.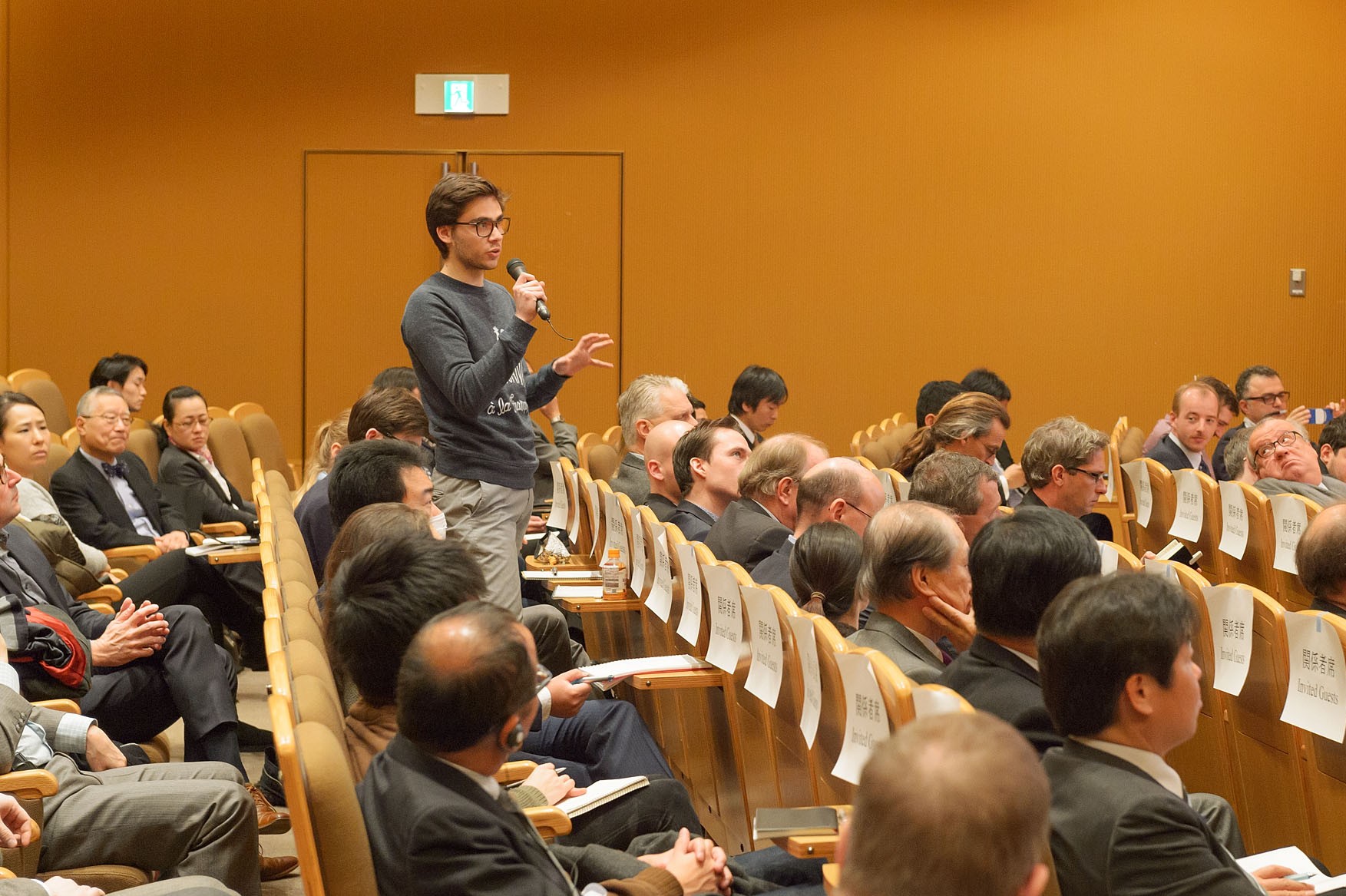 Q&A session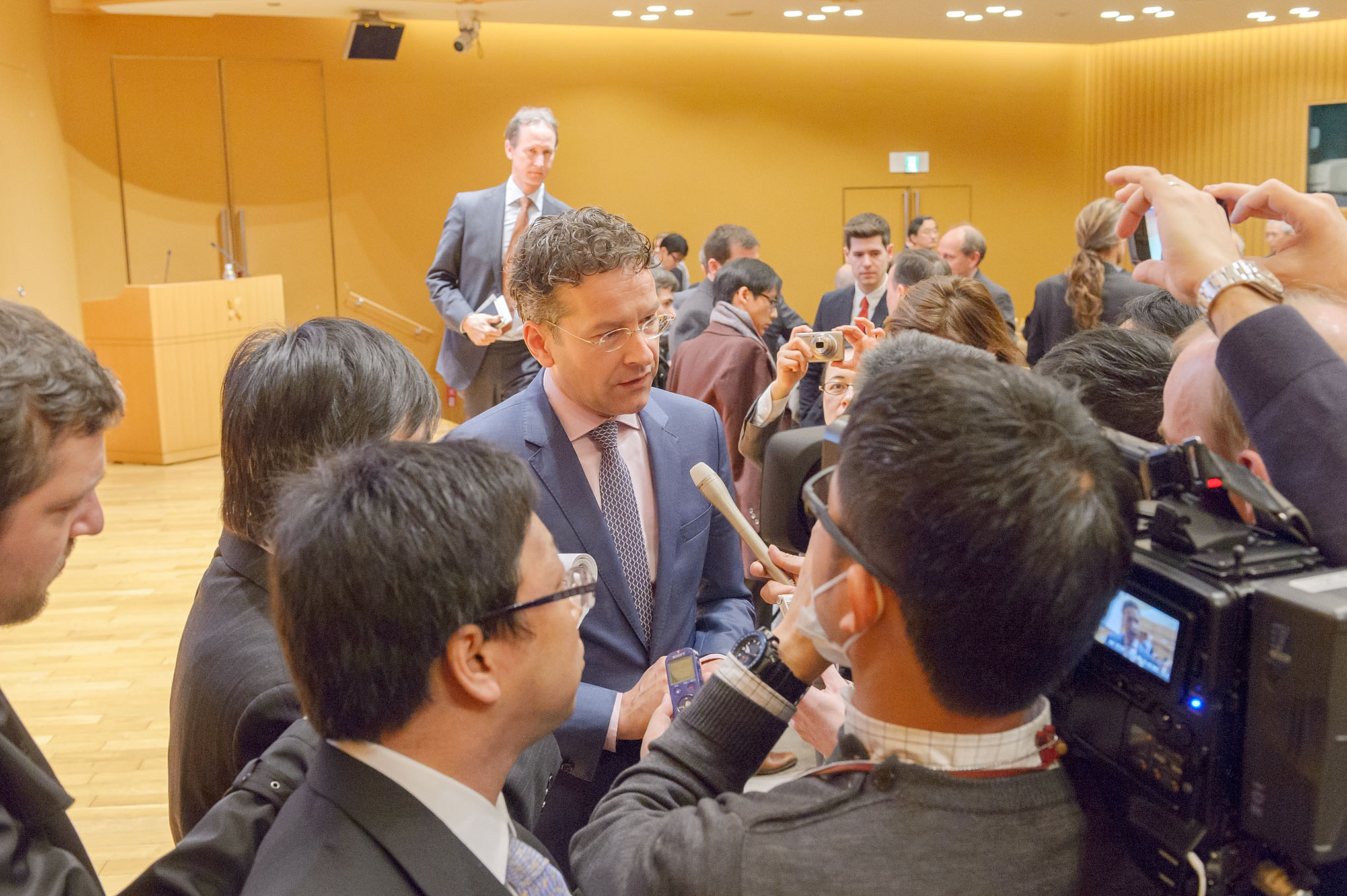 Surrounded by reporters
This was followed by a lively Q&A session where the audience including students addressed a number of questions, one of which was on public consensus and future policies in Greece.
The event was concluded with closing remarks by H.E. Mr. Radinck J. van Vollenhoven, Ambassador of the Kingdom of the Netherlands to Japan.
Keio University website
Event's Movies
"Growth in the Eurozone" Full Version